Society Packages
Packages start from £10 per person
Minimum of 8 people
We can accommodate:-
Golf Only
Breakfast or Bacon Baps
Soup and Sandwiches or/and Chips
One, Two or Three Course Meals
18/27/36 Holes
2 Tee Starts
Shotgun Starts
Nearest Pin
Longest Drives
Scoring/Competiton prizes
Hole in One
Twos
For all our best up to date deals/packages
Please contact Glyn Sadd or Max John 01743 860881
please call 01743860881 for our latest deals including 2 for £25 from 2 pm April – October.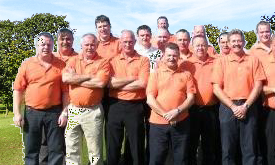 Both the individual golfer and Societies are made welcome at Arscott Golf Club and we have a variety of packages to suit all.
We serve a full Clubhouse menu seven days a week. Golf Societies can take advantage of our special great value menus.
If you require anything specific please let us know and we will be pleased to tailor a package to your requirements.
Ian Gilbert Westgate Golf Society
Your club remains a firm favourite with my members, both on and off the course. Thanks for your excellent food, facilities and staff. Another great day, thanks for your help, we will be back next year for our twelth visit.
Norman Howe Izaak Walton Seniors
We all thoroughly enjoyed the course, which was in excellent condition and a number of our members have already said they will be coming back again to play.
Andy Cadwallader
Played Arscott first time in 5 years, extremely impressed with the maturity and condition of the course. Still plenty of water, the views are still stunning and the growth of the trees has made the course more challenging. Warm friendly atmosphere in the Clubhouse. Definitely worth a visit.